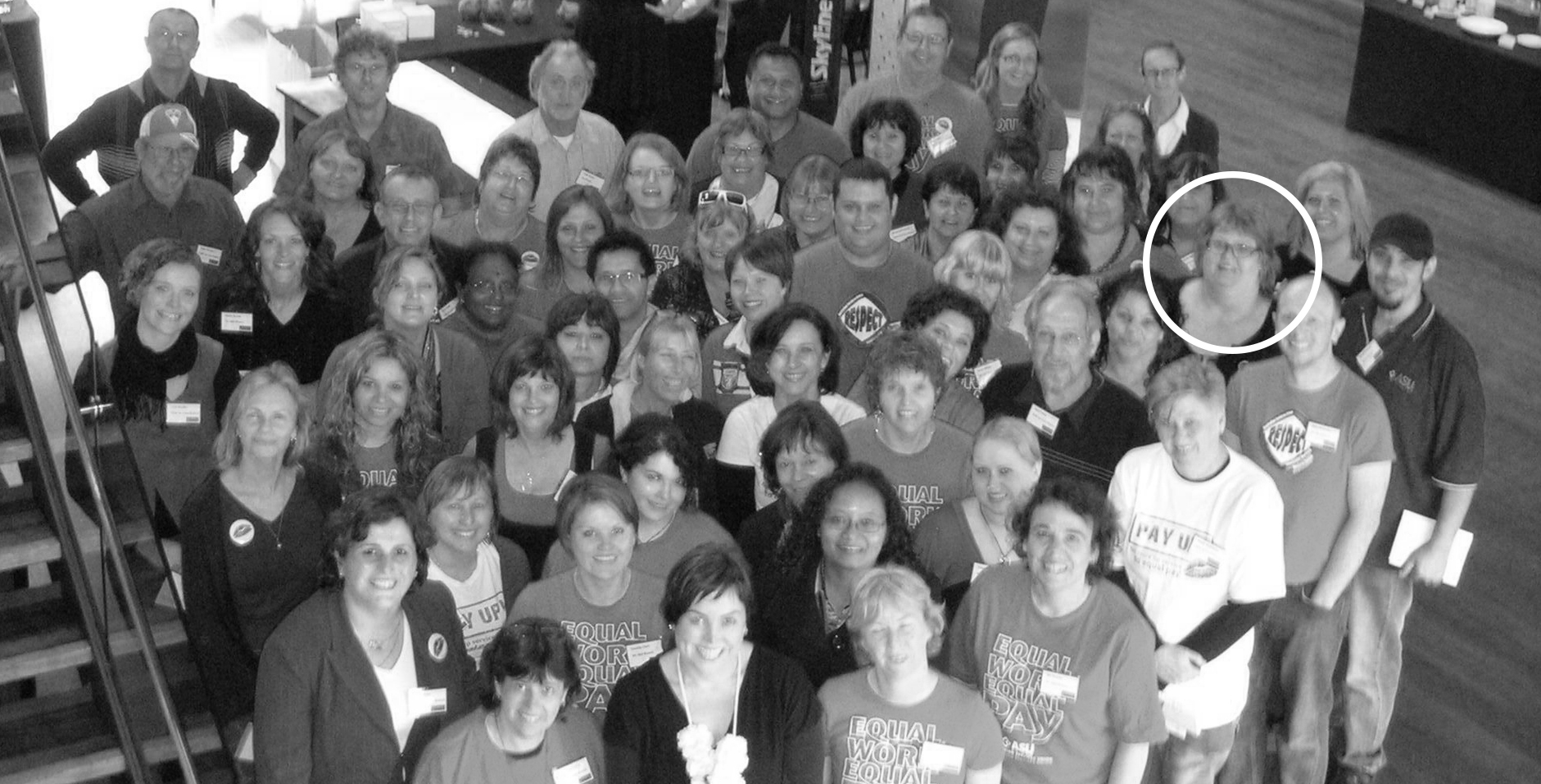 About this interview
Linda White, Assistant National Secretary of the Australian Services Union (ASU), reflects on how she first came to be involved in unions and how an often underestimated union achieved great strides in the equal pay case and superannuation for women.
Cathy Brigden is a professor in labour history and industrial relations at RMIT University and has been a union activist all her working life, initially with FAUSA, then UACA and was a foundation member of the NTEU.
As an activist academic, she has been particularly focused on recovering and returning the historical contributions women have made to the union movement from the 1880s onwards.  
Transcript: Linda White interviewed by Cathy Brigden.
START OF TRANSCRIPT
Linda White: So, I first became involved with the Liquor Trades Union as it then was and I was a casual employee at McDonald's in Camberwell. I'd been there for some years and we [all] became aware that the franchisee was going to sell back to the company and the company had a different view about the age of the workers, wanted much younger workers because they were on lower junior rates. So, we got involved with the union then. They didn't come to us, we went to them.
Cathy Brigden: And so how was that experience?
Linda White: I now know it was the same sort of experience as everybody has. So, we met at somebody's house in their lounge room in Camberwell and we um, and that person talked to us about, about joining and it was quite - yes, it was quite good so we joined. We were all casuals and so we were in a pretty precarious situation and the company wouldn't put us on payroll deductions. So, I ended up being - I was the delegate and so I had to - or shop steward and I had to collect the fees in cash and remit them in.
So it was fairly hands on and they [the company] didn't say this but it probably staved off the company for a little while, and then they just did what they were always going to do, which was just not roster you after a while but you know it saved us for a while. The union were pretty good. They were…my recollection is they were reasonably realistic about how it was all going to pan out but it was quite – you know, I didn't think it was a bad experience.
Cathy Brigden: And ad you had any family - any of your family…and family in the union.
[Over speaking]
Linda White: So, I hadn't - I wasn't - I really wasn't aware that I had any family [in the union]. But I kind of subsequently, some years later, found out my aunt had been a member of a union, and I think my maternal grandfather who died before I was born was a member of a union. But it was not something I knew when I joined the union.
Cathy Brigden: So, after your experience with the Liquor Trades, what was what the next step in your…
[Over speaking]
Linda White: So, I maintained a membership of the Liquor Trades Union while I was at uni because I was working in like hospitality jobs and so I worked in [with] lots of different things [employers]. I worked at University House at Melbourne Uni and I worked at Abbott Catering. And I was always in the union then. It actually made me entertain the idea of getting a job in the union so I did try. I had a law degree and a commerce degree and I was thinking I'd get a job at a union and I came quite close actually as it turned out.
But, I just hadn't really kind of put it in my head how that - how it [how getting a job in the union] really works. I now know. I was fairly naive as to how to get to be - work for a union. So, I then got a job - I had a year off between graduating and getting - and I did odd things during that, went overseas, et cetera. And I did try for union jobs and I actually got close with the flight attendants union.
I then got a job at Maurice Blackburn and the idea of getting a job at Maurice Blackburn was that I would see unions and then be able to get a job with a union.
I then at - Maurice Blackburn [I wanted to unionise the firm as it wasn't unionised] unionised Maurice Blackburn. So they weren't unionised at that stage. So, there was a bunch of us who were articled clerks, including a couple of people in the industrial section, David Langmead was one, [Carol Andrades], those people. Oh, Carol was later, David Langmead and another guy, I can't think of his name. We basically unionised Maurice Blackburn who at that stage was not a member of the union [aka had no union members].
Cathy Brigden: And so what was the reaction to that the unionising campaign?
Linda White: Well some people can talk the talk and walking the walk slightly different[ly] but they had to be a bit neutral because they had unions as clients, and so that was - it was over a couple of years and, yeah, I really didn't have - so that was with the Federated Clerks' Union. I really didn't have a kind of sense of who the Federated Clerks' Union were so they were [in the whole union context] at that stage. I didn't have much sense of it. I was [a] delegate, the clerks made me delegate because we ended up getting all in quite a few people. We would have had 60 or 70 members and that's reasonably large.
I mean Maurice Blackburn wasn't the same size as it is now either. Then you realise how it works. If you're from a workplace with that sort of numbers of people, then you're reasonably influential. I did not have any kind of sense of that. We were just running our own little show. We hardly ever saw the organiser. But then my activism got more [intense] because then Lindsay Tanner decided to make a run at it [at the leadership of the FCU]. So, I had known Bill Watson at Melbourne Uni and so he sort of - and I knew Lindsay sort of (I knew of him) so that's how I got [involved] - they enlisted me to be on their ticket to run for I think branch council of the FCU when Lindsay took over.
Cathy Brigden: Right. And so what was it like then getting more involved?
Linda White: Well it was interesting because it was very [intense and political]- there was - again I look back on it and I really didn't understand exactly what was going on. And like I said, I had always been on committees and done things so when I'd been at uni I was always in[volved] - I was president of the Law Students' Society, President of the Commerce Students' Society, I was on everything. So it wasn't a lot of Labor politics, but I was in things and so I just saw that as a natural progression of doing what I had already done.
I was already [a] delegate, but it was very tumultuous because the group numbers at this branch council - the council would go for hours and hours at night and it was fairly full on. But I guess if I look at it now I was a reliable number, that is I would always come and I would always have something to say or participate. You know, I can stand back now and see how they saw it and that's - well because that's what I had done. My parents had always been involved in things, you know if it was a Kindergarten committee or the APEX Club or stuff like that, right.
So I just saw that as a part of it. You know, I had wanted a job in the union from when I had been at McDonald's. And so I just kind of saw it as another way. I really liked working at Maurice Blackburn back then though so I stayed a lot longer at Maurice Blackburn that I actually thought I would because I liked the work. So, I could combine the two things and so, yes, it was quite good but it was tumultuous in the early times. And then what they did is – and again I can see it now – they made me secretary of the Clerks' Reform Group, which was the behind the scenes group for Lindsay's re-election, because they clearly wanted a rank and file person and, you know, I was from a workplace that was quite a reasonable size, and et cetera, and reliable.
Cathy Brigden: And so what then followed in terms of that role?
Linda White: I was on branch council then. Then Lindsay went to parliament and then they changed [secretary] - I think Gaye Yuille was the secretary, that was fairly full on when she got re-elected because then everybody – the Clerk's Reform Group – pre-selected her. And then, there there was a vacancy for deputy president of the branch and then I got [it] - so I ran for that. That was a contested election. It was a minor contested [election but still an election] - I won that easily I mean, and then so I filled the vacancy for that position and it was on the branch executive for quite, you know [a while] - as deputy president. I was never president but I was deputy president.
So, in the Clerks days too I was a national conference delegate with Martin Foley of all people. He was an organiser with them [the branch] at that stage too so we were on branch, on the national conference [together too]. Yeah, like I was moving up the ladder I suppose to working and doing various things, and so going to the branch executive as deputy president it was, you know, you learn more. The more involved you get the more, you know, information you get about what's going on. But I was [still] a rank and file [member and delegate] at Maurice Blackburn.
Cathy Brigden: So that's a fairly busy load that you're having then in terms of, you know, workplace…work and workplace
[Over speaking]
Linda White: Yes, and I had other things on the go too. I was on the local Footscray legal service and a few other things. As I said, life is too short not to be busy, so I kind of was doing [lots of things] – but yeah I found it really interesting. But, you know, as you progressively go through the hierarchy [of the union] you learn a lot more about it. And I'd been at Maurice Blackburn for quite a while and they'd been through the Kennett years. They, we had redundancies and so I learnt a lot more about being a delegate, an active delegate and about workplace stuff. Blackburn's were - they were good but they had their views [as bosses too].
So then the union said to me did I want to come and work for them at the branch, and I did go and work for them as an industrial officer. I left Maurice Blackburn and I went to work for them. I think I was still deputy president, but their view was that it would be good to get me into the, into the national office which is where I am now. So, they [the Victorian FCU branch] had a view that - them and their group had a view that it would be good to get a position in the national office because their subgroup of the union didn't have anybody in the national office.
So, they saw me as a logical candidate for that [for this position]. So, they pushed me forward to get that and as a result of that created a [new assistant national secretary position] - I was there [at the branch for] about a year and during that there was a national conference and they managed to persuade everyone that they needed to have an assistant national secretary so they created a position for me.
Cathy Brigden: So a new position.
Linda White: Mmmn. [Yes].
Cathy Brigden: That's not common.
Linda White: No, well there weren't many women either so they kind of - they just - they were very good at negotiating. I didn't do the negotiations they did it. So, I was like the seventh assistant national secretary [of the] combined union. Yeah, it was good. I mean they did the deal and that was - they saved somebody else to get the votes to get me in so that all worked out pretty well. But it was fairly - the national office was very large at that stage and really when I was at Maurice Blackburn I wasn't doing industrial law, so I wasn't right on top of all of that. But, so I had to teach myself pretty much.
Cathy Brigden: So what were some of the campaigns?
Linda White: Early on?
Cathy Brigden: Early on.
Linda White: Well I got Clerks' areas so they gave me a whole lot of Clerk's areas like vehicle and road transport and a whole lot of things that were not easy. They were just bargaining mostly and other things. And then it was really a lot of bargaining and a lot of responsibility. So what I tried to do is - which is what they had been - my gang had all been complaining about was to get more interaction between branches on particular industries, so I kind of, that's what I did is try to bring them all together. And then a couple of years in [I got responsibility for the private sector] - so the jewel in the crown for the Clerks' part of the union [that] is the airlines industry, and eventually I got responsibility for that and tried to
pull that together and we did do a lot of work to pull that together. And that was pretty full on, that's for sure.
This was some years later but the collapse of Ansett was a fairly big thing because the ASU had the most people in Ansett of any other union. So, we had about 4500 members who lost their jobs in the Ansett collapse, that's some years later [in 2009]. But, I'd had airlines for quite a while and so had been building up this national capacity, which came to the fore when Ansett collapsed, much to the surprise of other unions who couldn't believe how well organised we were. They just clearly weren't watching what we were doing.
Cathy Brigden: So the quiet building of networks…
Linda White: Yes, we had really good [networks] – you know we got, we got almost all of our proxies [for the administration of Ansett], 4500 proxies in a very short period of time for the administration meetings which helped overthrow the administrators that the company had appointed. So I think people - yeah , they underestimated the network that we had built. "You know, they were just the Clerks" was sort of the way they looked at it, and so that was slightly annoying because well we'd been doing all these things and participating in ACTU things [and were underestimated]. We didn't just talk the talk we walked the walk but that showed to all the world that we actually had a serious network of people who stepped up when it went into administration. So, I felt fairly strongly that I was a pivotal part of building that and, you know, we made some very hard decisions at that time which sometimes - we did two or three things in the early days of the collapse of Ansett that set us up. We, everybody, was [members were] on payroll deductions and we signed all our members up on direct debit within days of it [the collapse]. Because we weren't going to be in a position where the union didn't have the finances and everybody signed up.
So, they'd just lost their jobs and they've all signed up to union membership. So we actually - that helped us to finance it. The second thing we did was early on, in fact the first weekend after they collapsed, saw Qantas and Qantas was going to - because you know they'd collapsed, Qantas had to do a lot of work and Qantas was going to use a labour hire company to employ people. And I went to Sydney and she [another colleague] was already there. We convinced Geoff Dixon directly to employ them [the extra staff from Ansett] directly.
So every other union didn't do that, every other union went through labour hire which set them up for bad things, and we ended up, we were the only ones that had people that were directly employed by Qantas, which meant they got permanent jobs in due course. So, all those Ansett people went straight across but a lot of flight attendants, you know, everybody else didn't, and so that was a pivotal thing too because that set us up significantly for having jobs in Qantas and not having this labour hire set up.
So, you know, I look at those things and go well they were significant things to do at an early stage when you're under, you know, a fair amount of stress and the easy course would have been don't charge people fees and, you know, just do it for nothing and feel sorry for them. The second thing would be to take Qantas's offer because it was desperate times, and we didn't do that. And we set it up for a better position later. So, I look at that and go well that comes from good people around you who help make the decision. It comes from a very good organisation and it comes from loyalty of the members who think you know what you're doing and a good - I'm just not saying that's not me but we had reasonably strong officials all who were all hands on deck. I observed other unions who might not have had the same kind of fortitude. So, it gets written up in Greg Combet's book, he does say something about that finally but other people I thought were like surprised, yes, she [the ASU] was so well organised.
Cathy Brigden: Do you think that goes back to people thinking of the Clerks as they had been, rather than looking at the ASU as it was becoming?
Linda White: Oh, I think sometimes people don't – oh I think part of it comes from probably blokes' unions think they're better. I think they think that they know everything, and I think they do underestimate sometimes unions with women, and ours would have been 60 or 70 per cent female. And I just think they have a perception of what a unionism is and they maybe just ignore what's going on. Like, you know, the level of organisation to get proxies and – so, you know, what they were doing to get the proxies back you couldn't just post them.
So they would go into the Qantas people at the airport, getting all the proxies from the airports or whoever and putting them on Qantas planes and other people were meeting them at the other end. That's how we got them all, and it wasn't easy [it was organisation]. So they were literally, they organised their own people and put them on planes from Qantas.
Cathy Brigden: That's a huge logistical exercise.
Linda White: Yes, it is very huge logistically, but we'd already had this network of people who knew each other – because we'd organised it that way – who knew each other, who were used to having teleconferences or used to communicating. We already had the infrastructure. You can't do that unless you have the infrastructure and that had just gone unnoticed to other people, I suspect. But, you know, that was a very - so I built that over a long period of time with others. Like I don't say I did it all but, you know, we went from nothing to, you know, something where we're under this enormous amount of stress with people losing their jobs and we were the largest [union group] when we stepped up to the plate big time.
Cathy Brigden: So, you've talked about the Clerks and now the ASU. How was that amalgamation? A success?
Linda White: So, when I came here, I was in - it was the ASU by that time. Yes, I think it's okay. It's different cultures though. So, I think the MEU, it was the MEU, the MOA and the Clerks were different. I think that – I think. And then the MOA, or as I call it 'ASU Mark 1', was a conglomeration of a lot of different unions. I think that if I look back on it, it sounded like a good idea at the time but it's quite hard to maintain things that are different. If they're small [it can be hard] for them to survive, like I think some of those small unions, apart from Social and Community Services, might have been better to stay in a smaller union. Because they'd probably have more people and they would have more focused on it [on their industries]. So, airlines grew by merging the Clerks and the MOA because they had the airlines branch, those grew and that stopped [demarcations which ] were eventually fixed into the demarks that had previously been between those two unions [there had been many fights and demands]. But I do think things like you know we had travel professionals and shipping and a Technical Services Guild, those guys they just probably didn't thrive as much because in a big show [a big union] they were small. And then when people start prioritising, they just don't get the priority right so that means you just slowly but surely lose those people.
But the one that did grow and has just gone from strength to strength and probably wouldn't have gone as strongly as Social and Community Services, it benefitted significantly from a very large union, you know, from a large union. But it was also growing organically in the sector, so that probably helped too but it also meant the organic growth and people joining also did mean that we were getting - that we, we had campaigns that we could run that would make it grow a bit faster than the organic.
And I think the Clerks - I don't know whether the Clerks would have done better on their own or not. I think when they've amalgamated into other branches, their focus [on the private sector] hasn't been as fantastic [as good as it could be] – you know, like they just focus on other parts of it. You know, and it's hard, the private sector clerical administrative is not an easy place [to organise members].
Cathy Brigden: No, not at all.
Linda White: No, it's not like, you know, it's not like local government and it's not like Social and Community Services and so it does require longer horizons to organise and recruit people. But then everything has got harder now. So, I think when you look back on it everything is hard now and everything is all on the same pattern [level] of difficulty but, you know, the Clerks are always hard.
The other thing about the Clerks is that it's like the canary in the mine. Things were happening to Clerks' areas earlier that now happen to mining and the like. Like contracts, and when health insurance companies when they did those non-union agreements [EFAs] - what were they called? You know ,they did all those things and then the Comalco dispute where the clerks were put on contracts and all those things. It was always happening to clerks first and in retrospect it was oh, well they're not really the blokes, it's just because they can't do it.
But, you know, it's like they come for one they come for all eventually and that sort of annoyed me. Well if you actually all had this massive solidarity with the Clerks and thought about that you might not necessarily be in the same position that you're in currently. And I think, yes, it's a bit snobbish, again and that links back to what I said about Ansett, it was like, "oh they're just the clerks", you know, "they're not a real union", like that sort of thing or they're just - well we were the ASU but that's like, yeah, but watch what's happening.
In airlines think of, our [union fee] payroll deductions were taken away from [by] Qantas before I was doing it about 1996 and it was a bit like, "oh well it's just the clerks", it's sort of that's what would happen [to them, they were in a real union]. Then eventually Qantas came for everybody including the pilots and the engineers, they come for everybody eventually. So, you just think it's - you should never just think it's the weakest.
Well they might think they come for the weakest but we actually held on and probably did a lot better from it because again we [our members] were underestimated. You know, so they took our payroll deductions away and then the chair of Qantas personally offered them back to me in the, in the early 2000s. We go, no, we don't want them, thanks very much for your offer but why would we want you to know how many members we have.
Cathy Brigden: Yes.
Linda White: So, yeah, so I think that. You know, I think certainly my experience has been with the Clerks is that while underestimated often the ones that get attacked first and everybody else just sort of went, "oh it's just them, it's just the women in the office, it's not really as significant". And yet they got the same things, all the things that would be happening in mining now happened to the Clerks years ago, and had they actually expressed the solidarity that they expect from everyone else now mightn't be the same situation. But that's my view.
Cathy Brigden: No, that's really interesting and I think there are unions that, yes, are and their members are underestimated or not seen as central players.
Linda White: Well I think, you know, the biggest unions are the nurses and the teachers. The people who think that they're the backbone of the - and both those unions could buy and sell some of those blue collar bloke unions, buy and sell them easily both with political power and assets and they're on a growth trajectory.
Cathy Brigden: Yes, and committed members.
Linda White: Very committed members.
Cathy Brigden: Very committed members.
Linda White: Yeah.
Cathy Brigden: So, you've alluded to some of the gender dynamics going on. In terms of being a woman moving through from the period, you know, when you started when there weren't as many women, what was it like making your way through and networking with other women?
Linda White: Well I was very lucky that - my backers were - I think the common word is mentors – they were - certainly women - Gail Yuille was very pivotal in that and there are always other women in other branches. I think that you do need that because you need sounding boards and you need people who you can talk to and who can, who can kind of help you when things are not going exactly the way [you want], give advice and you know both industrial advice but also career advice. I think that you do need that.
I think blokes have that too, it's probably - they have that. I mean, everybody probably has that, but it does help to have people who are saying to you, this is the way, you know or this is how you cope with these difficult things. Internal politics, to have people in your corner does make a big difference. You've got to have that otherwise you can't survive in these things, I think.
Cathy Brigden: And hen you moved up to the - so the national level where certainly there were fewer women, you know, what was it like when you were you know…
Linda White: Well so it was fairly factional so the national executive president and one of the [assistant national] secretaries who was Brendan O'Connor in fact. So, we were sort of a little grouping if you like and, yeah, it was a bit - they weren't keen on making me an assistant secretary, and so I didn't get the greatest jobs in the world initially. But, you know, you just make the best of what you have and I did have their support internally I suppose and we were they felt a bit ostracised a bit too. They were doing mostly local government but I was, you know, I was in Clerks.
But I think that we had a little grouping internally and the union nationally contracted over a period of time, and I suppose I did bring to the table - the national executive a number of - some numbers which linked with their numbers and you know the numbers were very tight. So that always helps, you know, in this game. In a political sense you need numbers. Eventually it was our numbers that the Clerks had that got Paul Slape to be national secretary.
So, you know. Yeah, I was pretty, you know, close to them in terms of how to wind our way [through] and there were quite a few cultural things, differences between each of the unions, and so it was quite - it wasn't necessarily on factional lines, it was more on old union lines. So, it was a lot more like that and so not 100 per cent. But there was certainly you didn't have to be in the same factional part of the ALP to be in the grouping so to speak.
So it was, yeah, it was fairly tumultuous. And that was I guess what happens when you put unions with different cultures together and, you know, it takes a bit of time to see who is going to be in charge a bit. So whoever was in charge it was, you know, it was interesting. So, yeah, I certainly learnt the internal politics of it, but I had people behind me in the branches that I'd represented and who put me there that were pivotal in all that sort of stuff.
I was learning very much industrial stuff because as I said I hadn't done industrial work at Maurice Blackburn and I'd only really had about a year at the branch. But they got me to do some interesting things at the branch, so I got some reasonable hands-on experience.
Cathy Brigden: So, what sort of things?
Linda White: Oh, we were doing at that stage the restructure of the legal award and at that stage in Victoria Kennett came in they had to transfer all the awards to the federal system and we were trying to transfer the legal award to the federal system. We only had mostly the labour law firms roped into that [award] and we negotiated a new classification structure, and remarkably the person designated to do that for the [Labor] law firms that was Julia Gillard.
Cathy Brigden: Oh right.
Linda White: Okay. So, she and I negotiated the classification structure in the legal industry award. So I did that with her in my first year.
Cathy Brigden: Which is a fairly significant thing to do.
Linda White: Ah, well not for her it wouldn't have been I suppose given that she ended up being prime minister, and I didn't think of it as highly significant at that stage, not thinking she was ever going to be prime minister. But, yes, like I said, it's…[it was interesting]
Cathy Brigden: I was thinking more in terms of the members and protecting the members.
Linda White: Oh, yeah, yeah, yeah, know, it was good for the members certainly because that Kennett time when they had to transfer all their state awards into federal awards was fairly full on. So, yes, so that was quite - that's what I did, a bit of that in the first year. So, I learnt a bit about what to do but, no, I didn't know a lot. But the branch people knew a lot and I thought I [they] could do it which I could, so I did.
Cathy Brigden: And so once you were operating at the national level, was that when you had more involvement with the ACTU?
Linda White: Yes, so I didn't get onto the ACTU executive until, I don't know, a while later. I did get onto the ACTU executive as the kind of affirmative action thing [position]. And then I did - Greg Combet asked me to be a vice president so I was a vice president for a couple of terms. So, I ceded my vice presidency so Sally [McMans] could be vice president. So whenever that happened, so that's when I finished because the ASU couldn't have two [vice presidents]. So, she took on a vice president [position] and she took my spot for the ASU.
Cathy Brigden: And what was the experience of ACTU executive meetings like for you?
Linda White: Well, yeah, reasonably okay. Again because [Greg] Combet was [secretary] - I think probably because he'd seen the ASU in action in the Ansett thing so he kind of thought we were good. Oh, well he put me - as a result of being a vice president, you know, I went on a delegation when we were trying to look at the Fair Work Act and what to do if Labor got in so that's about 2006. So that was quite interesting
[So that was my first real work with the ACTU, and].
Greg, without his smarts, he was always a few steps ahead of everybody else in terms of what to do and getting the administrators in. So that was my first, if you like, serious brush with being involved with them. But, you know, we held up our end of it and the rallies and the administrators and the whole thing. And then, yeah, the natural progression was to be on the ACTU executive and then I did go on that thing overseas to look at what systems we should have.
Susan Hopgood and Bill Shorten was on that [delegation] and Cath Bowtell and Doug Cameron, all those guys were on it looking at what else we could - what other models we could have if we could overthrow WorkChoices. So, that was quite interesting. It was a big picture, interesting things so it was good, yeah, very good.
Cathy Brigden: And did it make a difference that you started in one of the affirmative action positions, or was that just not something that made a difference?
Linda White: Certainly at that time they needed the affirmative action positions when I first came on it, Kelty was definitely still secretary I think. Oh look, I think there wasn't as many women [as there are now]. Sharan Burrow was from AEU, Helen Creed those sorts of people. There weren't nearly as many women who were leading the unions as there are now and I think - did it make a difference? I don't know. I'm for affirmative action I think it's - if you don't - you don't get to sit at the table unless you have affirmative action so I think it's extraordinarily important and I've seen it in the ALP. The ALP would not, of its own volition, it would not have got to the situation with so many women in parliament had there not been rules that makes them do it.
Cathy Brigden: So, in terms of where the ASU sits now but also unions more broadly, what do you think the biggest challenges are?
Linda White: You know, I've only ever been in the ASU but I observe other unions. I think we're, the ASU, I think we are ahead in lots of things. I do think that we are not afraid to take on [big challenges] - if I look at my time in the recent years here we use the government [make the best of having a Labor government] - getting Julia Gillard into government [served] very well for our Social and Community Services members. You know, e got that equal pay case up. They [Labor] weren't just going to give you the money, you had to run a case, you had to have a campaign, you had to do all those things.
And it didn't just happen. And we had already started beforehand. We started it in 2006, we knew we had to do it. We didn't know we were going to do an equal pay case. You know, we had two things. You [we] could organise and mobilise people and recruit and do things but you could also have political influence. And if you can combine those two things you can achieve big things [prosecute your case]. But it took a long time from 2006 to 2012 and nobody - when we started it in 2006 we did not know we were going to do an equal pay case. But, you know, there was just this window of opportunity and again you've [the ASU has] got to take the opportunity. But there's no point in doing it, in my view, for the ASU at least, there's no point in achieving big things unless you can build your strength or build your membership and that's what we had to do over a very long period and we did.
We did make it a campaign, and that was the only reason that Labor also did this [backed the campaign] because it was the right thing to do [and ASU members campaigned and wanted it]. So I think that for us we learnt lots about - I think Ansett taught me a lot about that too, you can't give in [against adversity]. If I go back to what I just said to you about the decisions we made in the first few days frame [in Ansett and in the Equal Pay campaign, those decisions effect] how the result happens. So the way it went - but that was built on the fact that we'd done all this work beforehand to build the networks [and mobilise people].
And so there's not just one thing in the union but if you take the view that organising and member ownership and connecting people and having them involved in decisions and active, then I think that's a very strong basis on which to get [build]. So I again look at one of our branches here, you know, they were the only people in Australia, well in the world to put DV [Domestic Violence] leave in an EBA. Well, that's a courageous big thing. Look what it is now. So that was driven by a delegate. The organiser thought it was a good idea [and was supported by the branch]. There was somebody who was an expert who could help, they linked up with other people who had been pushing it and then bang they've got it and look what it is now. And so t hen the union took it up so we've probably got the most clauses of DV leave and I think that if you isolate the problem and then provide the solution and you involve people along the way then you can, you know, you change things, big things. You know you've just got to be persistent and continue.
So, I think that that is a good thing that the ASU does. I think that's the chance for unions is that you can't - you've got to understand how you get people in and what you do and how you capture their imagination and then how persistent you are. And you've got to have a long time frame, things don't happen overnight. So again, so we've adopted that a lot in what we do. So the DV leave is in our [many ASU] workplaces which we did, let's spread it to big policy, let's get everybody that can get it.
So that's one and then our latest thing I suppose is we're looking at women's super and the gender pay gap for women in super. So that again is an issue that's been under the radar and [Senator] Jenny McAllister did her senate inquiry but and that started it. But we, you know, we did some work for that senate inquiry and again [our] focus [was] on members, their stories, nobody else had really done that. They kind of talked around it but we had real things. I think that's the challenge is bringing to the fore real stories.
And so now I hear like last week or the week before Kerryn Phelps mentions the gender pay gap in super in her maiden speech. I go, well there you go then. If you told me three years she would have done that - never. So I think unions are very well placed if you're persistent. But nothing in my experience is successful unless you have good members and you capture them and you capture their imaginations and you get them to tell their stories, and you get them to be involved in [all the] steps along the way.
And that's I think the secret - well if there's a secret to it that's how you are far more successful and I think that's what unions have got to go and do a lot more of. So, I think the ASU is good at that. We're not afraid of taking on big things. I think we start to think well we've got to have - we're happy to have longer horizons too. Like if it doesn't happen in the first year we've just got to be relentless, which is what I frequently tell those politicians, we are relentless.
Cathy Brigden: Well it's taking that proper campaigning approach, things don't happen quickly.
Linda White: Yes, it is. So I think the other thing, you asked me what our challenges are, so I think that we have a few challenges. A part of what I'm doing currently with a group of people is we just don't - we're a bit old fashioned in the way in which we deal with people who join us and we, like lots of unions, lose people in the first year. So there's a mismatch between expectations and delivery. I think some people think that everybody joins for the collective well they don't.
They move to the collective and I think that with the world around us being so - the interactive nature or the fact that you can information so easily I think unions have been left a bit behind in terms of how we deal with members. And I think the challenge is that around them, you know, we tend to treat people like it's a privilege for you to be a member of our union rather than the other way around. That is that it's a privilege for us to have you as a member. I think getting that mindset around and then moving people on a journey of membership and I think we have overlooked, one how they get marketed to and what happens to them in the real world and we've just - we're just sort of stuck in a [an old fashioned] way of how you [we] deal with members.
I think that's a real challenge here. I think people would join, I do think young people join but you've got to look like them, you can't send their grandad out to recruit them because they ain't going to join. If you're a 20 year old woman working in an airport and somebody who looks like your grandad comes out [and tasks you to join the union] it's not going to work.
Cathy Brigden: And then things don't happen to keep you or to engage you.
Linda White: Yeah, so I think engagement is it so we're looking more closely at our member journey [the member experience]. How do you move somebody who joins because of job insecurity because, and how do you match - how do you look at what that is and then get them over the first year because they reassess how much it costs them and what do they get? How do you get them through that and then how do you involve them more?
And I think that's what happens to you every day of your life, you know, from Woolworths to, you know, your local club or clubs or Medibank or whoever, they're all attempting to engage you all the time so they keep your attention, or your super fund, they all do it, and were - if we're not doing it then we can't kind of just expect everyone's you know going to want to raise the red flag. But it is possible and you can change modes and you can do things but you've just got to understand what they're thinking. What they [members] think at the end of their membership versus what they think at the start is going to be different. That's my thought about it so I think that's a challenge because I just don't think people are into thinking about it more closely about well how do you make everybody feel like they're part of something, and how do you harness the collective for lots of different things and not just maybe better wages and conditions but what can the collective do for us. The collective can get domestic violence leave for Australia.
Cathy Brigden: Exactly, yes.
Linda White: For us we can get better super or we can use our buying power to negotiate cheaper groceries and those things. I know Bill Kelty tried all that in the past but I just think it's got to be in the context of how people's lives operate now.
Cathy Brigden: There's such a change as well that looking at what was done in the past is probably not going to be as equally applicable.
Linda White: No, it isn't and it's, yeah, it's really understanding the mindset of people [and the world they live in]. I'm not saying we turn into a commercial operation, but that influences the way in which you see things, you can't help but do so. So, if you're out of the box [ouside of what is 'normal'] and you don't do it exactly like that or your variation of it then that's not something I want to be in maybe. That's what people say, rightly or wrongly.
And so you've just got to be - you've got to keep your values, keep the collective but also design it a bit more so people feel like it's important. So, for us, for ASU, we're doing more professional development, well we're looking at those successful unions like the teachers and the nurses who do professional development, it's compulsory for them so it's a bit different. But we do see that not everybody thinks of being in a union as every day is conflict and resolving it. Right?
So, it's really figuring out how you get that balance and I think that's a serious challenge because the world around us has changed and maybe people, you know, people don't join things all the time but they do join things, it just has to be appealing to them.
Cathy Brigden: Yes.
Linda White: They just have to go, well that's me I like that and I think that's pretty good. And I think we're in a world of a bit of turmoil. I think the political situation where people change their allegiances much more freely than they might have in the past just shows how fluid things are. You've got to be, you've got to understand that. So for us in the ASU, not everybody who is in the ASU votes Labor or Green, we've got plenty of people who would be National and Liberal voters and so that just shows the collective is not an anathema to what your political view might be.
Now I think you've got to - when you've figured that out then you can - you've got to navigate it and it's a bit more complex than it might have been. It's not as black and white as it might have been so that's my theory anyway.
Cathy Brigden: What else would you add?
Linda White: What else would I add? I think unions are hard things [organisations] to be involved in because you do have to know how to resolve conflict, because there is often conflict. But for me, I've been lucky in that and you do have to know how to do a deal, you absolutely have to know that, and you have to know what a good deal is when you see it. And you have to be able to lead people, you have to be able to match expectations with results, but sometimes the trying is the best thing. You know like the fact that we tried a lot of people think, yes, that's good.
Like at least we gave it a shot you know and if we get an outcome better than we think, it might not be exactly the outcome that we got and that's the skill in our game is how to match expectations, how to recognise a win and also live to fight another day and have a longer horizon. If you don't have a long horizon I just think you're silly [everything is] - it's incremental.
So when I look at some of the big bargains we did and if you take people on that journey, like we increased superannuation at Qantas and we got domestic violence leave at Qantas after a long period of time, and I look at the Qantas thing and it took three enterprise agreements to get domestic violence leave. And I am - when Qantas said, yes, we're going to give it to them, yes, we're going to do it we agree finally, the negotiating team clapped. Like I've never seen them clap and then it was replicated in the workplace and I thought well that's pretty good because [they knew what a difference it was going to make and what they had achieved] they clapped Qantas and Qantas were shocked.
But it shows you the journey that you can take people on right so I think that they could see where they started and they saw that they got it and it was good. So I think that is - to me that's the skill of it, but it's the skill [of] dealing with people. Anybody who is successful at dealing with people, whether it's in a commercial situation or in a not-for-profit or whatever, that's the - they've all got similar things about them.
Cathy Brigden: And so for you as that younger Linda who wanted to work for a union and Linda now who is working for the union, you know how has it - has it lived up to what you…
Linda White: Ah yeah, when you win it's fantastic. When you win or at the end of a long thing [campaign], like what everybody in Ansett said after many, many years [when they] got pretty much all their entitlements from a very, very, very difficult situation, and given I knew nothing about administrations and we were the largest union, yeah there's nothing like getting a result that everybody feels, okay, we wouldn't have got it without [the union and working collectively] - and I think that is - yes, it's really good.
I think nothing beats getting good results and as I said when they clapped [achieving] the DV leave [at Qantas] after all those years I thought that was pretty good. Then bringing people from no understanding to "we need to get this" is satisfying. I think, as I said, for us our most recent thing [campaign] is suddenly the pay gap for superannuation, which no one was talking about two years ago, no one, [that issue] is suddenly oh yes, well of course, women only have 47 per cent [of the superannuation of men – it has to be faced].
Yeah, there was certainly some work beforehand [on the issue but I feel we pushed the issue to the tipping point]. But it was that tipping point So our feeling was, define the problem and then provide the solution and it's the defining the problem takes a bit of time
What I didn't probably realise, and as I said I had a degree of naivety is, there's significant influence of unions in politics and that's been really interesting. So, you know, it's opened a significant number of doors for me in terms of politics and influencing big-picture policy. And I'd never probably thought [about it when I was young] - I was just a bit naïve about how that all works. I've certainly been lucky to be in a union where we've certainly developed over a period of time the ability to influence big picture policy [and get big results for people that change lives].
And I think that's really satisfying when you see people's lives, so the equal pay case changed so dramatically [people's lives] because they got this massive pay rise over eight years between 23 per cent and 47 per cent, plus the safety net and nobody had got that. So, like that's the power of the collective and if we can [get paid] DV leave that's the power of the collective. [With] the power of collective we can change a lot of women['s] for superannuation [outcomes], those are big things.
But then it's the small things in workplaces or the things that are day-to-day but it's a combination of politics and a combination of organising people. So, yeah, I would never have seen the full potential for influencing big picture things I don't think. It was never in my kind of idea but again I've fallen into that too. So, the union has certainly given me the opportunity to be fairly influential in the ALP, a behind the scenes person and so that's good too. But not everybody capitalises on that and not everybody has the opportunity but it's certainly there, you've just got to snatch it and do it.
Cathy Brigden: Well that's probably a good point on which to say thank you Linda.
Linda White: That's all right.
Cathy Brigden: That's been…
Linda White: Hopefully that's all right. I don't know if it's…
Cathy Brigden: Thank you.
END OF TRANSCRIPT
Show more
union
women
activism
Australia